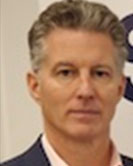 Jeff Camp
Managing Director
Email: j.camp@miami.edu

Mr. Camp is an accomplished finance professional with over 30yrs investment experience. He started his career as an investment analyst and rose to Managing Director at Morgan Stanley where he was the #1 ranked analyst by Institutional Investor for his work on Internet Infrastructure Services companies. In 2000, he was the most widely read analyst worldwide according to First Call/Thompson. After leaving Morgan Stanley, he joined Andor Capital, a $9.5BN long-short equity hedge fund, as its CEO for Andor Europe and was based in London where he directed the firm's investments across all sectors. He later co-founded Partner Fund Management, a $4.1BN hedge fund where he was its CEO for PFM Europe again based in London. More recently, he found is the Managing Partner of JC Venture Capital LLC, a family office that invests in early stage companies. He has active investments such areas as digital health care, digital marketing, business services, insurance and real estate. He is widely regarded as an expert on investing in Opportunity Zones, and recently was the keynote speaker on this topic at the SBIR Tour, a US Federal Government backed program for funding early stage businesses across America. Mr. Camp has worked on over 50 deals in his career and has extensive experience with public company research, Initial Public Offerings, M&A transactions, corporate and government advisory and private company investments.

Mr. Camp graduated from the University of Michigan with distinction with a BA in Economics and Japanese. He is a Chartered Financial Analyst. He was an Adjunct Professor at the University of Miami Graduate Business School where he is currently its Managing Director of the 'Cane Angel Network.